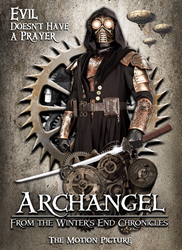 Oxford, GA (PRWEB) May 05, 2015
International crowd funding began on May 4th on Indiegogo for Archangel from the Winters End Chronicles, an exciting steampunk action adventure film from Reel Cool Entertainment and writer/director Dave Di Pietro.
The film takes place in a dark, steampunk, Victorian world of 1893 London, where a masked vigilante leads an underground resistance in an ongoing fight against a tyrannical regime, who had their sights on world domination. The project began life as a small web series, but has created quite a fan base within the steampunk and science fiction communities, said Di Pietro.
The direction of the project is to produce a 90-minute feature film, which will act as both a stand-alone motion picture and also a pilot for a possible television series. Reel Cool Entertainment feels that the timing seems perfect, since Steampunk design now even extends throughout the world into the areas of fashion, engineering, music, and for some, a lifestyle.
Di Pietro adds, The film will be shot in and around the Atlanta, Georgia area, which has become quite the mecca for motion picture and television production over the past five years. People and parties interested in funding or working on this ground-breaking project should check out the links to both the Indiegogo campaign and the official Facebook page, below.
The time is now for Archangel from the Winters End Chronicles, a film and series that will truly deliver this unique science fiction world in a vein that is new, fresh and unusual.
For More Information
Indiegogo: http://igg.me/at/archangelthefilm

Facebook: https://www.facebook.com/archangeltheseries

Website: http://www.archangeltheseries.com
Contact

Reel Cool Entertainment

25 Wildflower Trail

Oxford, GA 30054

support(at)reelcoolentertainment.com
Dave Di Pietro

Writer/Director

+1 610 500 1190 (cell)
About Reel Cool Entertainment
As one of the newest independent film companies in the Atlanta, Georgia marketplace, Reel Cool Entertainment wants to hit the ground running with a series of cutting edge shorts, films and television projects.
About Dave Di Pietro
Dave had worked for Paramount Pictures for over 13 years and has directed TV commercials, Indie Films, Web Series and even Stage Productions. Originally from the Philadelphia, Pennsylvania area, he made the move to the Atlanta, Georgia area in 2003. Besides writing and directing, he loves collecting memorabilia and film props from the Star Wars and James Bond series of films.
About Indiegogo
Indiegogo is a way for people all over the world to join forces to make ideas happen. Since 2008, millions of contributors have empowered hundreds of thousands of inventors, musicians, do-gooders, filmmakersand other game-changersto bring big dreams to life.