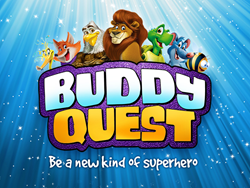 Loveland, CO (PRWEB) June 02, 2015
While most mobile games keep kids busy with squashing zombies or flinging birds, a new app is attempting to let kids have fun and do good at the same time.
Buddy Quest is the first-ever mobile game app that gives children (ages 6-11) a chance to practice virtues in the real world. Kids follow the adventures of more than 100 characters, help them solve their problems using a variety of virtues such as responsibility, honesty, gratitude, and kindness. In addition to the in-game stories, Buddy Quest challenges kids with real-life quests, giving them a chance to take what they're learning in the game and try it out in their everyday lives.
The app, which will be available on both in iTunes and Google Play, is launching a Kickstarter campaign this week to raise funds and awareness for the game.
Another unique feature of Buddy Quest is the Parent Portal, a part of the app that gives moms and dads an easy way to track their childs progress, chat with them about what they're experiencing, and watch them practice the virtues in real life.
Jeff White, one of the creative leads for the game, says its part of the growing trend of combining mobile technology with real-life experiences. Virtues training isnt easy, even for over-achieving parents. Were building Buddy Quest with unique features that make learning fun and rewarding, while also helping moms and dads with an essential part of parenting, White said.
The game will feature more than 130 high-quality characters that have been a key part of summertime vacation Bible school programs for the past 10 years.
Every summer, more than 3 million children experience the VBS program, which gives us a great fan base to start with, White said. Thats a lot of families who already have some familiarity with the characters and their stories.
Weve been very pleased with the responses from both parents and kids who have tested the game, said Brian Abbott, who leads the development for Buddy Quest. Weve also got a great head start because of the quality of art, design, music, and other development features that we can use for the game.
Jess Harnell, a voice actor that has been featured in scores of movies and TV shows for Disney, Pixar, and Nickelodeon, is voicing the main character in Buddy Quest.
The Kickstarter campaign aims to raise at least $ 30,000, and offers a variety of backer rewards including collector cards, posters, soundtracks, and other unique game-related experiences. The project ends on Tuesday, June 30, whether or not it has received all its funding. The project can be found at this website: https://www.kickstarter.com/projects/buddyquest/buddy-quest
Lifetree Family creates experiences that help families grow in their faith and relationships. Its a non-denominational company with books, blogs, apps, and other resources aimed at providing ways for everyday parents to train and love their kids. Lifetree Family is a part of Group, a creative media company based in Loveland, Colorado since 1974.
For more information, please contact Jeff White at jwhite@group.com or 970-292-4499. You can also visit http://www.buddyquest.com.
# # #