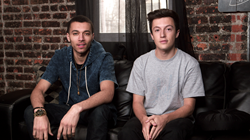 (PRWEB) May 19, 2015
Music Choice is expanding its new artist initiative PRIMED across its entire national footprint including its digital properties with its recently launched streaming video channels on Musicchoice.com. The robust programming initiative gives artists unprecedented access on Music Choice including exposure on the #1 Free Video On Demand network, on TV with Mediabase reported Music Channels and interactively with Music Choice Play. The initiative kicks off nationally with hip hop/pop duo Kalin and Myles.
A special entitled PRIMED: Kalin and Myles will premiere Thursday, May 21st at 8pm ET/PT on Music Choice Play (check local listings). Each episode will become available on Music Choice On Demand following its initial broadcast premiere on Music Choice Play and extended versions of the show will be available on the MC App. The duo will also be in a heavy rotation on the Teen MC and Hit List Music Channels. #MCPrimed
Music Choice will also provide a robust marketing and promotional campaign off channel to complement the program and to further raise awareness for artists who have earned the right to be supported. Music Choice hopes to champion talent in a multi-tiered manner to encourage the growth of the next generation of artists. The new artist initiative will also hit the road for the inaugural, "MC Primed LIVE" tour slated for fall 2015. The tour will feature new artists that are poised to be the next big things.
"We are really excited to be a part of the Primed launch with Music Choice. We were really excited when Music Choice started playing our song Trampoline and we know the KAMFAM was too! It was such a cool experience filming this and we hope everyone enjoys a little behind the scenes from The Dedication Tour. YEE!" – Kalin and Myles
MC Primed includes the following on air promotions:


Music Choice Play will feature a special Primed: Kalin and Myles show that will premiere nationally Thursday, May 21st at 8pm ET. (check local listings). Who knows more about new artists than we do? The rising stars themselves. Get to know the next big thing on Primed. #MCPrimed. The episode will become available on Music Choice On Demand and musicchoice.com following its initial broadcast premiere on Music Choice Play.
Music Choice Music Channels will feature each artist in a special airplay rotation on their respective genre channels that will be reflected on Mediabase & BDS. Artist panels will air on-screen along with distinct color theme to alert consumers that the artist they are watching is a PRIMED artist. Kalin and Myles will be featured in a heavy rotation on Music Choice Teen MC and Hit List Music Channels starting May 21st.
Music Choice On Demand will feature the latest music videos from each Primed artist in a top-level folder. Music videos will also appear in respective genre folders and the Brand New This Week top-level folder for maximum exposure. Directional: Music Choice On Demand>Brand New This We ek
Music Choice Streaming Video Channels will feature each Primed artist on the MC web-site and mobile apps that stream music videos across various genres. Bumpers and interstitials will appear throughout the campaigns that identify them as Primed artists. Kalin and Myles will appear on the Music Choice Teen MC and Hit List Video Channels May 21st.
Primed was originally launched on Music Choice On Demand in 2013. Artist that have been featured include: Macklemore, Lorde, Imagine Dragons, A$ AP Rocky and many more. For more information about Music Choice, log onto http://musicchoice.com/ or to become part of the Music Choice community join us on Twitter: @MusicChoice or Facebook.
About Kalin and Myles

After building an immense following independently, Bay area hip-pop duo KALIN AND MYLES signed to Republic Records in 2014. Their first major label EP release, Chase Dreams, vaulted into the Top 15 of the Overall Top Albums Chart, while reaching #3 on the Pop Albums Chart. The collection's first single "Love Robbery quickly racked up over 4 million views on YouTube and over 7 Million streams on Spotify, while snagging the #1 most played spot at Power 106FM in Los Angeles.
Most recently, Kalin and Myles released their Dedication EP. The video for their latest single Trampoline trended for hours on Twitter upon its release, while shooting to #2 on the Billboard Trending 140 chart. The song has been making waves as it climbs up radio charts with early support from key players in the industry. USA Today recently named KAM as artists On The Verge with Billboard featuring the duo as one of Tomorrows Hits. Whats more, Complex featured Trampoline as a song that was bout to blow, declaring it one of the hottest records out.
Kalin And Myles just wrapped their 50-date Dedication Tour where they have been performing to sold-out shows and packed crowds. For more information visit: http://kalinandmyles.com.
KAM Social Properties:

Twitter.com/KalinAndMyles

Facebook.com/KalinAndMyles

https://instagram.com/kalinandmyles/
About Music Choice:

Music Choice, the multi-platform video and music network, delivers its music programming to millions of consumers nationwide through their televisions, online and mobile devices. Music Choice programs dozens of uninterrupted music channels; produces originals that feature todays hottest established and emerging artists; offers thousands of music videos; and launched Music Choice Play, the music video, lifestyle and entertainment network for Millennials. For additional information log on to http://www.MusicChoice.com | Twitter: @MusicChoice | Facebook: http://www.facebook.com/MusicChoice
###