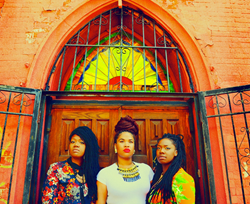 Los Angeles, CA (PRWEB) June 20, 2015
FIGat7th Downtown Festival turns up downtown Los Angeles for its third year every Friday night this summer. The free, non-ticketed outdoor concerts feature performances by leading pop, rock, jazz, soul and alternative artists at FIGat7th, downtown LAs premier shopping and dining destination.
Although it has only been three short years since FIGat7th Downtown Festival joined the collective of free summer concerts in Los Angeles, its curated line-up of performances this year sets it apart from similar outdoor music events. The weekly concerts kick-off July 10 and run through August 28, every Friday night, from 7:00 p.m. – 10:00 p.m., at FIGat7th in downtown LA. Its one of the only free summer concert series for Angelenos of all ages and the festivals programming reflects the diversity of the city.
The fresh eclectic line-up highlights artists as well as partnerships with LAs premier music movements. Not to be missed on July 10 are the soulful voices of festival openers KING, the critically acclaimed trio that has opened for Prince, and Bay Area singer/songwriter Mara Hruby. Week two will feature two bands from the critically acclaimed indie label Innovative Leisure: Superhumanoids, with new music from their forthcoming album, joined by the exciting British multi-instrumentalist Tropics. The following week music collective Soulection will curate a beats heavy night with a stellar lineup of DJs and vocalists, including Joe Kay, Andre Power, SoSuperSam, Esta, Chris McClenney and SPZRKT. On July 31, Andre Power will return with multi-talented drummer/producer/vocalist /singer/songwriter Anderson .Paak & The Free Nationals. August kicks off with legendary LA label Stones Throw presenting the highly anticipated Mild High Club and an all 45s vinyl DJ set by Peanut Butter Wolf, Dam Funk and special guest. On August 14 the love and appreciation for vinyl continues with Linear Labs Adrian Younge & Friends whose past guests have included Kendrick Lamar and Bilal. The closing night concert on August 28 will be a celebration of Afro-Brazilian music and dance, featuring Quetzal Guerrero, Junglefire, Capoeira Exchange, DJ Potira and Gisella Ferreira (Samba Queen USA 2014).
Presented by Arts Brookfield, FIGat7th Downtown Festival is a 2015 nominee for the Los Angeles Downtown News Best Free Event Series in downtown LA. Also, FIGat7th is Brookfield Office Properties successful 330,000-square-foot retail and dining destination. FIGat7th Downtown Festival is conveniently located on the FIGat7th Plaza, across the street from a major Metro stop and is one of the only concert experiences in Los Angeles where music lovers can dine, drink and shop in one location. To learn more about this music festival and other Arts Brookfield programs, visit http://www.artsbrookfield.com/figfest.
PERFORMANCE SCHEDULE & LINE-UP:
4:00 p.m. | TASTE Happy Hour
7:00 p.m. | Doors & Plaza Bar
8:00 p.m. | Show
7/10 | Soul Sirens

KING and MARA HRUBY
Twin sisters Paris and Amber Strother and musical compadre Anita Bias are KING. In 2011, KING independently released their first EP to much acclaim. The title tracks The Story, Supernatural, and Hey make up the 3-piece introduction to their carefully crafted future soul sound.
With influences from Patsy Cline to Curtis Mayfield and Brook Benton, retro singer/songwriter Mara Hruby personifies the sound, retro style and soul of an alternative jazz legend. In 2014 she released her second EP, Archaic Rapture, which is her most personal project to date and can be defined by her own heartbreak.
7/17 | A Night with Innovative Leisure

SUPERHUMANOIDS and TROPICS
Do You Feel Ok? Its a question you can answer with a shake of the head or an hour-long tangent. For Superhumanoids, its the title of their sophomore album, but it goes deeper than that. Its an inquiry that they kept asking each other throughout recordinga meditation on indecision, the infinite paths available, the dubious and righteous choices youve made, the changes in your own life that dont always parallel those closest to you. It can be an obvious yes or no, or an existential inquiry without easy answers.
The new album from Tropics, aka 27 year old Chris Ward, looks outwards, armed with a newfound confidence that foregrounds his vocal performance and songwriting. Tropics new full-length Rapture, is the culmination of this journey. A multi-instrumentalist from an early age, Ward has always drawn on his musical upbringing when composing, but this time around hes pushed himself to develop a fuller sound than ever with the help of Vaz, Hislop and specialist jazz drummer Gillan McLaughlin. Taking influence from Beach Boys, Max Roach and Arthur Russell, Ward has crafted an album that fuses his love of avant-garde percussion, 70s and 80s singer-songwriters such as Peter Gabriel known for pop-leaning hooks, and deep production that takes cues from ambient music.
7/24 | SOULECTION: The Sound Of Tomorrow

JOE KAY / ANDRE POWER / SOSUPERSAM / ESTA / SPZRKT / CHRIS MCCLENNEY
Soulection is a trailblazing music collective and platform for independent artists who represent a range of music genres. It is a DIY record label for producers, deejays, vocalists, and rappers who are bypassing traditional distribution routes and taking their music directly to a massive online fan base ready to embrace whats being called the sound of tomorrow.
7/31 | Future Soul

ANDERSON .PAAK & THE FREE NATIONALS and ANDRE POWER (Soulection)
Anderson .Paak & The Free Nationals delivers a finite process in remaking alternative rock classics from beloved bands into compelling, funkier versions by extracting every bit of soul, jazz, hip-hop, electronic funk, and R&B from these great tunes, simultaneously paying homage to some of his all-time favorite songs and bands. Born in Oxnard, California, this Ventura county native has made his way into the now explosive Los Angeles music scene as a drummer/producer/vocalist /singer/songwriter, with his present release Cover Art, the debut EP introducing an innovative soul rebel sound.
8/7 | FIGat7th X Stones Throw

PEANUT BUTTER WOLF, DAM FUNK with SPECIAL GUEST and MILD HIGH CLUB
Mild High Club is a wayward home for the musical output of Alexander Brettin, making his debut with the 45 Windowpane b/w Weeping Willow. Brettin has been recording and performing with the likes of Ariel Pink, R Stevie Moore and Silk Rhodes while working on his own debut LP for Stones Throw Records.
Peanut Butter Wolf got his start in the early 90s as the DJ/producer for Charizma in San Jose, California, until December 1993 when Charizma lost his life at the age of 20. After taking a break from music, Wolf started Stones Throw Records in 1996. Charizmas posthumous My World Premiere was the single that launched the label. These days, PB Wolf is busy building the Stones Throw label and traveling as a DJ/VJ.
8/14 | Analog Sounds with Linear Labs

ADRIAN YOUNGE & FRIENDS
Adrian Younge is the next generation of soul music. A self-taught musician and recording engineer who has dedicated his life to the study of classic soul music, Younge finds himself at the center of a new soul renaissance with a vision for pushing the boundaries of the music itself. In spring of 2013, Younge released Adrian Younge Presents the Delfonics (Wax Poetics Records), co-written with William Hart, founding singer of the legendary soul group; as well as Adrian Younge Presents Twelve Reasons to Die, a concept album with Ghostface Killah on RZAs new imprint, Soul Temple. New collaborations with Bilal, Raphael Saadiq, Common, No ID, and DJ Premier are also in the works for future release.
8/21 | Tropical Dance Party

BUYEPONGO with SPECIAL